Thank You and Farewell Richard St John - Chair of the School Board
There are numerous people who work to make our school great. Many are in plain sight; you see them each day and the work they do is immediately obvious. Others are less so; they are not always visible, and often their contribution is not immediately evident. However, their influence can be substantial and what they do to support the School extremely significant. Furthermore, it has for nearly a decade been led by a Chair who has displayed all the qualities needed for such an important role.
On 6 October 2011, Richard St John was appointed as a Director to the School Board of Hume Anglican Grammar, and four months later on 25 January 2012, was made Chair and served in this capacity for 10 years. When Richard commenced on the Board, the School was in its fourth year, had some 490 students enrolled and 55 staff, on the one campus at Mt Ridley. When Richard departs at the end of this year the School will have 1,670 students and 170 staff, at two campuses, with work well underway for the next. During his time the School has established a new campus at Donnybrook in 2019, and in 2023 will open its third campus at Kalkallo.
Growth of the School under Richard's guidance has seen numerous major capital projects. Including at Mt Ridley the Year 7 Centre, Senior Secondary, Performing Arts, Year 5/6 Centre and STEM centre, and soon to be completed Sports Centre. At Donnybrook three general teaching neighbourhoods and a soon to be completed Year 5/6 Centre. Also, the school will in 2022 construct the first stage of its new campus, the 9-classroom Prep to Year 2 Centre at Kalkallo. Not to mention the numerous ancillary projects consisting of sporting fields, carparks, playgrounds, and landscaping.
Like all things overseen by Richard, building the School has been meticulously well managed, maintaining that each stage is in alignment with student enrolments. He has ensured all aspects of our growth has been conducted in a planned and careful manner, considering what is in the best interests of the School community. Most importantly Richard appreciates the importance of growing in sophistication and maturity. He has encouraged that everything must be done to provide an increasingly richer experience for the students, with a greater number of programs and initiatives. During Richard's time as Chair, he has encouraged and supported the implementation of staff leadership roles to add to the capacity of the School, so enhancing the education journey for all our young people.
At a governance level, Richard led the Board through the consolidation of the two entities, Hume Anglican Grammar and our parent group the Anglican Diocesan Schools Commission, to form the Melbourne Anglican Diocesan Schools Commission. This required expert knowledge and a deft touch to make the two become one very strong organisation. Perhaps a very good example of where so much work was done behind the scenes, which has resulted in huge benefit to the School. Over the last two years we have experience troubling times and great uncertainty, and there is no doubt that we are in a sound position now because of Richard's care and guidance.
For me as Principal, Richard has been a great mentor, coach and counsellor. He has proved a patient, sensible, perceptive and a hard-working leader who was always able to project his considerable knowledge and experience into every occasion. The commitment required for a School Chair is worthy of note. In a typical year the Chair would attend over 30 board and committee meetings each going on average for 2 hours, and when you consider that for every hour in a meeting there is quadruple that for the Chair in preparation and then follow-up, it is indeed a formidable commitment.
As Chair, Richard has maintained clarity and order to the business of governing the School. He is meticulous in detail, gentle in spirit, resilient in the face of challenge, and shown strength when required. Richard is looked upon fondly by staff, students and parents to whom he has endeared himself. Always wishing to immerse himself in school life, he attended school events wherever he could, and not just because he felt he should or it was expected of him, but because it brings him great joy. He loves to see the children in their classrooms and at play, he loves to meet their parents and hear what they had to say and loves to know the staff because he appreciates the value they bring.
Throughout his time, he has always had one thing as his focus - the care of the young people to whom he feels personally connected and responsible. This student-centric approach has allowed the school to flourish, and I think this extract from one of Richard's speeches given at a Presentation Ceremony some years ago, sums up the essence of his stewardship.
"The board is committed to the goal of providing an education that prepares our students for the challenges of life and to contribute to the community, in a Christian environment and at a cost affordable to as many as possible."
Thank you Richard, for all you have done for our school, we will be forever grateful.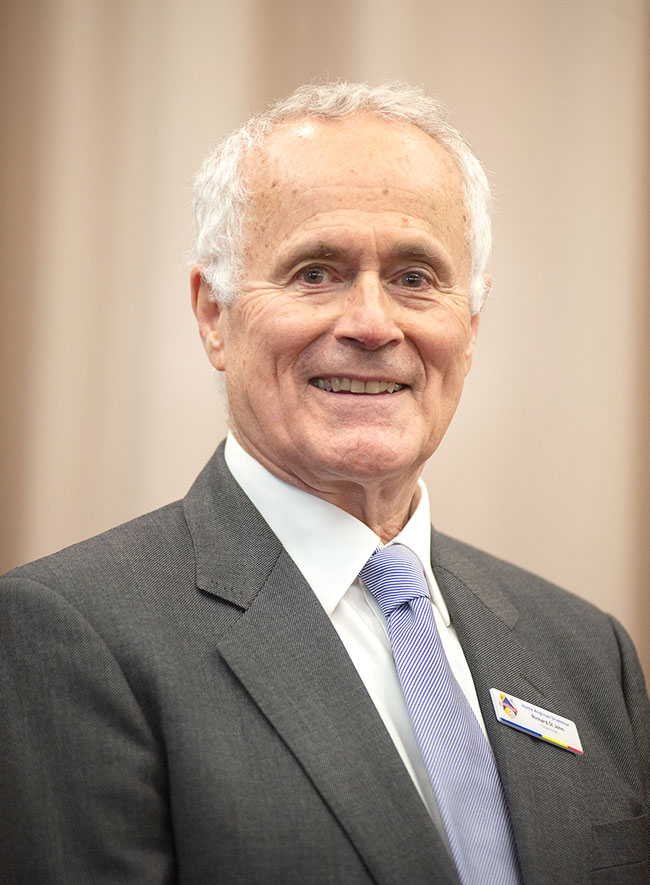 Bill Sweeney - Principal