Dear Friends and Families,
'We want you to know, brothers and sisters, about the grace of God that has been granted to the churches of Macedonia; for during a severe ordeal of affliction, their abundant joy and their extreme poverty have overflowed in a wealth of generosity on their part. They voluntarily gave according to their means, and even beyond their means, begging us earnestly for the privilege of sharing in this ministry to the saints'. [2 Corinthians 8:1-4].
Term 3 has obviously begun similar to how Term 2 finished – with another season of remote teaching and learning! It is sadly not how we anticipated the second half of the year playing out, but we are all very well experienced now at adjusting, and we are confident of better days ahead!
I would like to thank every one of you for your generous gifts of toiletries and blankets towards our Anglicare appeal at the end of Term 2. Normally, our timeframe for the collection would equate a month, but due to changed circumstances, we only had one week to bring in items. Yet, what a collection it was! We more than filled a one-ton van (my own SUV was packed to the hilt with donations) and as you'll see on the attached thank you letter, Anglicare Craigieburn were extremely appreciative of our gifts, which have been distributed to those in need in our local community.
When we joyfully give towards the benefit of others, we do so in a similar manner to the early Christian churches, who 'voluntarily gave according to their means, and even beyond their means'. What ultimately brings about such a motivation and a mindset? It is simply Christ.
When we realise that God the Father graciously gave his only Son freely for us, in order to reconcile us to him, we cannot but help be freely generous to others, even when it might mean going beyond our means.
The apostle Paul sums up this attitude nicely in the next chapter: 'Thanks be to God for his indescribable gift!' [2 Corinthians 9:15].     
If you would like to speak further, or have questions about the Christian life, then do please contact me at: [email protected]
I also encourage you to pray the collect prayer for the week below.
If you would like to explore the certainty of Christ further, the two local Anglican churches (currently meeting online) listed below lead regular Sunday services.
St Peter's, Craigieburn (meets normally at 10.30am on Sundays in the Chapel at Hume Anglican Grammar – 100 Mt Ridley Road, Mickleham)
Locum: Father Charles Potter
Mobile: 0468 331 549 / 03 9308 2452
Email: hume[email protected]
http://www.humeparish.melbourneanglican.org.au
https://www.facebook.com/humeparishcraigieburn/
Redemption Anglican Church (meets normally at 4.00pm on Sundays at the Hume Tennis and Community Centre - 225 Marathon Blvd, Craigieburn)
Pastor: Rev. Akhil Gardner
Mobile: 0400 021 381
Email: [email protected]
https://www.rccraigieburn.com.au/online
https://www.facebook.com/rccraigieburn/
Prayer for the week
O God,
you alone can order our unruly wills and affections:
teach us to love what you command,
and to desire what you promise,
that, among the changes and chances of this world,
our hearts may surely there be fixed,
where true joys are to be found;
through Jesus Christ our Lord. Amen.
Song (Give thanks)
https://www.youtube.com/watch?v=047xtru0ZR0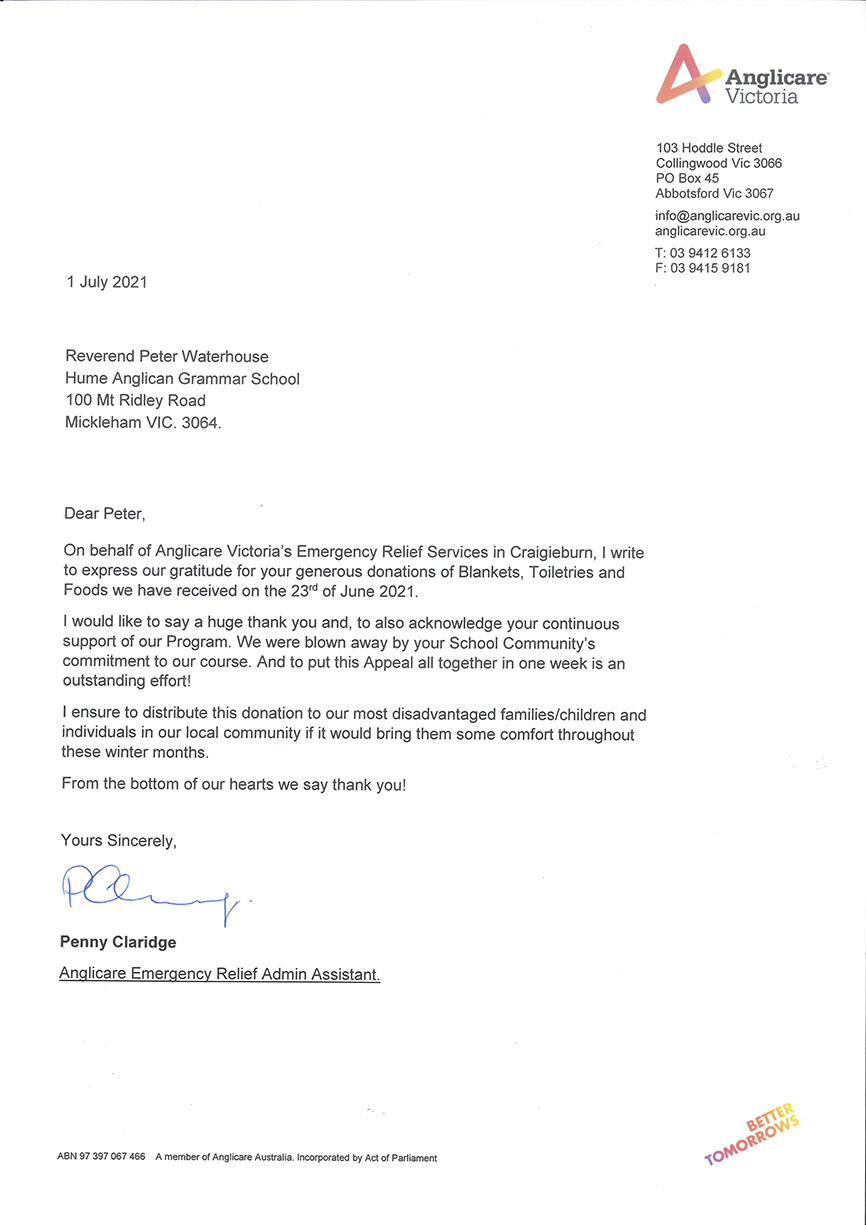 Reverend Peter Waterhouse - School Chaplain