Hey everyone, I am Sohan Kodlapura, and I am one of the Senators in Year 8. In this section, I will be talking about myself (hobbies/work habits), after this I hope you would have learnt more about me as a person. Let's get into it!
I wanted to be a Senator to help students realise their goals for life and experience new things that they might be interested in. Since I became a Year 8 Senator, I have established Chess Club (which many of you might be familiar of) and I have helped start the IPL tipping competition (I am currently in 3rd place). I am also certain that I am going to start more clubs in the near future!
At school I try my best and never give up. I try all avenues before I ask for help as to maximise my learning potential. I am a proud student who upholds our values no matter what.
In my spare time I enjoy reading (thinking about it, I might need to buy a new bookshelf. I have too many books!), my favourite author would be Derek Landy who wrote the Skulduggery Pleasant books. I find him a hilarious author, with characters in his books that stay in you forever. I recently got introduced to Webtoon, a free website which has thousands of webcomics with all types of genres.
Thanks for reading. I hope you have learnt a bit about me.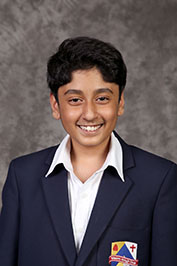 Sohan Kodlapura - Year 8 Senator