Last week in the Library, we extended the Diwali celebrations with a display and readings featuring books and resources about India, Hinduism and the story behind the festival.
The students were excited to spot the items on display that are so central to this special event and shared with us the many different ways they celebrated together with family and friends. During Library sessions, students shared with their classes the meanings of the festival, including how it celebrates the victory of light over darkness. We enjoyed hearing, in the children's words, how Diwali marks Lord Rama's triumphant return to Adodhya after years in exile, after defeating the evil Ravana. We heard of how they made offerings to Lakshmi, asking her to bestow her blessings of health, happiness and good fortune onto loved ones. When students described the delicious foods they ate for the festival, there was practically a chorus of rumbling tummies!
Here are some of the things they had to say about their favourite aspects of Diwali:
"We made rangoli to invite Lakshmi into our house. We also lit sparklers." Guryash 4B
"We got out the sparklers and waved them about. We have divaas, which are special candle holders, out the front of our house to protect us. We went around the neighbourhood checking out the lights in other people's houses." Gunraj 4B 
"We had jalebi which is a sweet treat in a spiral shape. We also had a gulab jamun, which is like a round ball of sweet treat." Jaismeen 9A
"I like to blow out the candles at the end of Devali." Huunar 2A
"I liked lighting the long sparklers and I made Rangoli with my sister." Ganayat 1C
"We did sparklers and had the best fun. We ate lots of yummy panir" Felicy 1C
"It was so fun and exciting." Riddhi 1C
"On Diwali I lit candles and we prayed. I got gifts and we made rangolis from colourful powder." Taskirt 1C
"My family did Puja and we put on some Indian songs and clapped along. We also put traditional bands made of rope on our wrists." Aryan 3A
The students who did not celebrate enjoyed learning about the festival of Diwali through these personal experiences, and also through the collection of books we highlighted in the library this week.
Siana Einfeld - Library Assistant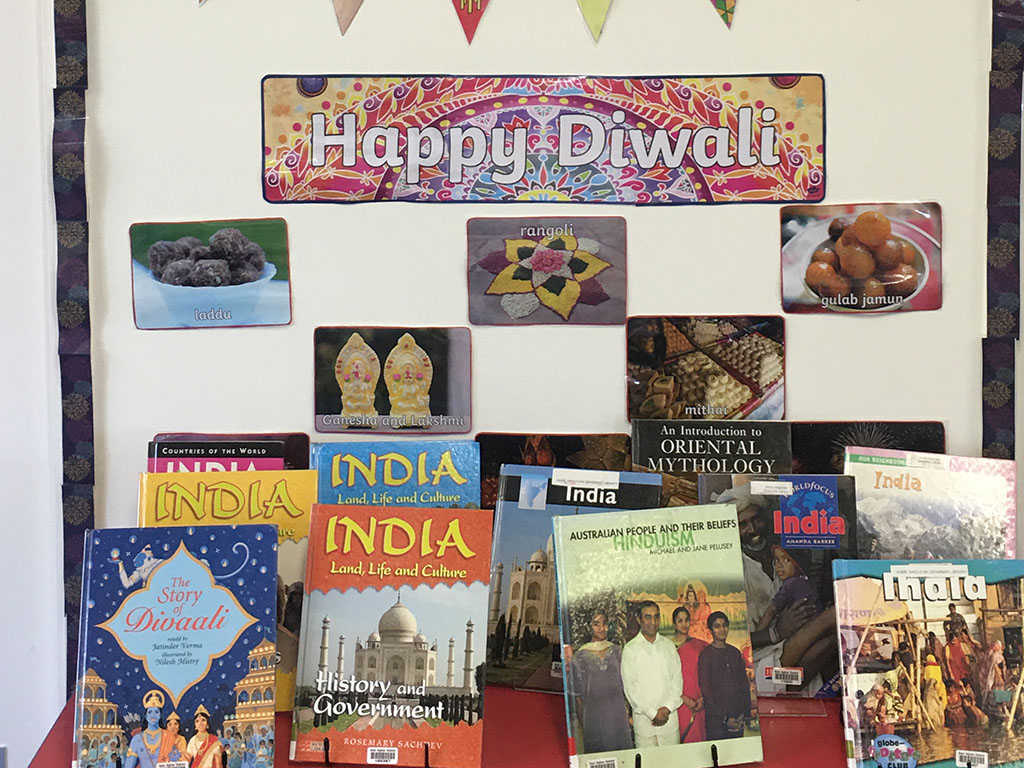 ​​​​​​​